Wireless Rain Gauges, Reviews
Many are those who consider rain gauges to be nothing more than glorified farming equipment, which couldn't be farther from the truth. In fact, rain gauges have a much wider application range than some people realize, which explains why we find them in so many households around the world at this point in time.
Considering how impressively practical rain gauges can get towards the high-end part of the price spectrum, we can also understand why so many people see them as an investment rather than mere gadgets. Then again, the people who use them are already aware of how useful these practical units can be. Over the next few minutes, we will take a look at the ten best wireless rain gauges money can buy right now.
10. ECOWITT WH40 Wireless Self-Emptying Rain Collector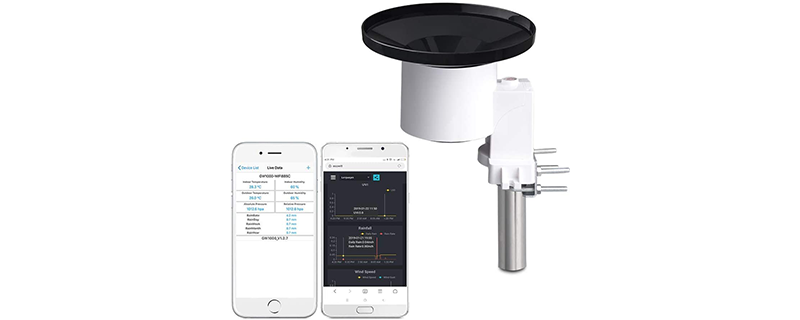 Standing out as a fairly large device, the ECOWITT WH40 Wireless Self-Emptying Rain Collector is an efficient tool that provides you with accurate information and rainfall measurements. Equipped with an efficient Rainfall Sensor, it is designed to prevent any dirt or debris from entering the cylinder.
Easy to read from a distance, this tool features a patented self-sealing plug that helps prevent any leakages, a vibrant colored float, bright markings on the side, and high magnification of the level of water to help with enhanced readings.
Made from durable materials, it is uniquely styled and would accentuate your garden space effortlessly. Thanks to its versatile construction, it can be installed on any fence or deck with ease.
9. AcuRite 02446M Wireless Rain Gauge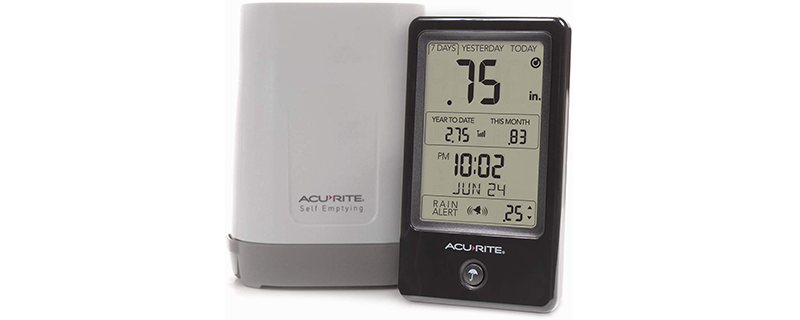 With this particular rain gauge, you get unique craftsmanship and reliability along with an attractive design and general outlook. Created to measure rainfall and monitor the watering of your garden or lawn, this device is built to collect up to 7 inches of rainwater.
Made from high-quality durable metal and glass, it is resistant to all weather conditions and is more or less damage-proof. Ideal for decorating your garden, yard, lawn or tabletop, this rain gauge is easy to read and surprisingly sturdy by all standards.
8. La Crosse Technology 724-1415BL-INT Wireless Rain Station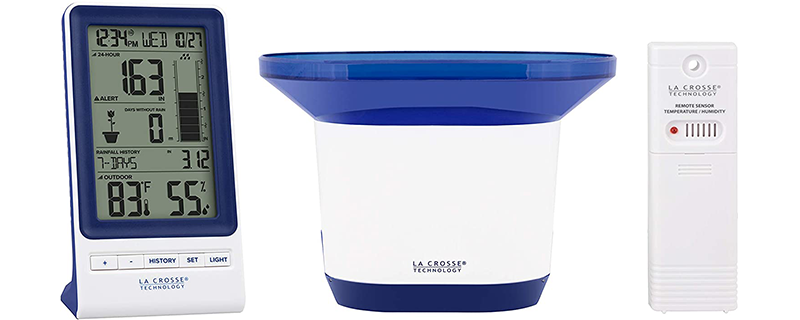 The La Crosse Technology 724-1415BL-INT Wireless Rain Station is a durable, compact size and easy-to-operate device that is designed to deliver rainfall measurements. Featuring a self-emptying cup, it includes vents that drain out the liquid completely along with the help of additional internal tilting cups.
Providing you with readings that include current information, 1 hour, 24 hours, 7 days, 1 month and 1-year readings, you can choose the unit of measurement between inches and millimeters.
Offering you with both indoor and outdoor temperature and humidity information, the device comes with a dynamic icon to inform you of days with and without any rainfall along with a time and calendar display.
7. AMTAST Wireless Rain Gauge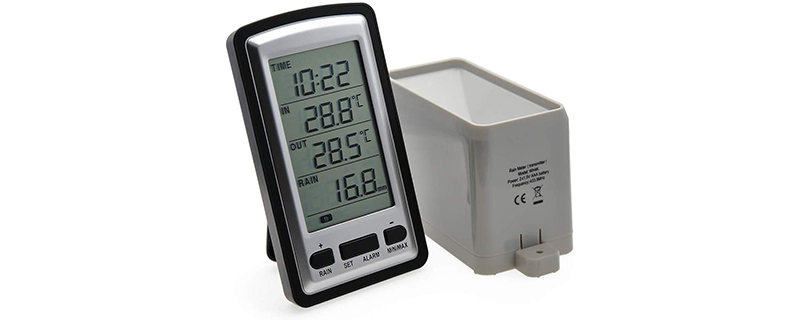 Featuring a transmission frequency of 433MHz, the AMTAST Wireless Rain Gauge is engineered to provide a transmission range that goes up to 100 meters. Uniquely crafted to deliver accurate information of rainfall in the last 1 hour, 24 hours, 1 week and up to 1 month, it allows you to select the unit of measurement in inches or millimeters.
Designed to report indoor temperatures ranging between -15.8°F to +176°F, it also offers information on outdoor temperatures that lie between -40°F to +149°F. Made from high-grade, sturdy materials, it features a radio-controlled date and time setting with a manual setting option, a calendar display, and an alarm.
6. Oregon Scientific Wireless Rain Gauge with OUTDOOR Thermometer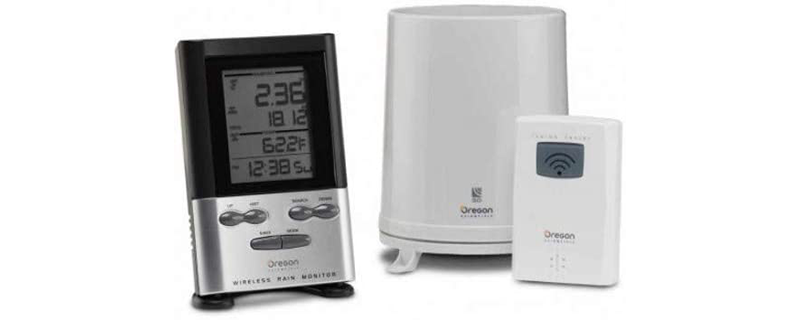 Engineered to measure quite an ample amount of rainwater at a time, this Wireless Rain Gauge from Oregon Scientific is a convenient device that can be easily placed in your yard or garden. Featuring large white markings including inches and numbers that are magnified by over 35%, it offers clear visibility of the readings.
Constructed from durable, high-grade acrylic, it is resistant to all weather conditions and is damage proof. Thanks to its inbuilt hanging hole on the extended base of the device, it allows easy mounting or can be stacked into the ground with relative ease.
5. La Crosse Technology 724-1409 Wireless Rain Station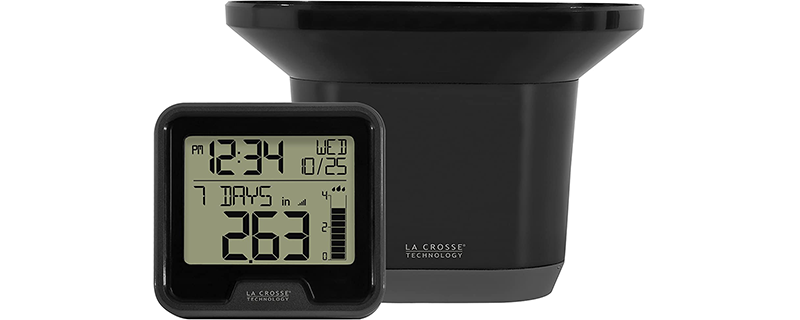 Featuring a self-emptying collector cup that includes a tilting rocker on the inside, the La Crosse Technology 724-1409 Wireless Rain Station produces precise and accurate rainfall measurements and temperature details.
Providing you with rainfall readings that include current readings, 1 hour, 1 week, 1 month and 1-year details, it also provides you with the total rainfall measurement from the time the device was installed. Offering details on the temperature indoors, it comes with a convenient 24-hour rain alert and an indicator icon to notify you of low battery levels and signal strength.
4. OUTWEST TRADING Professional Outdoor Rain Gauge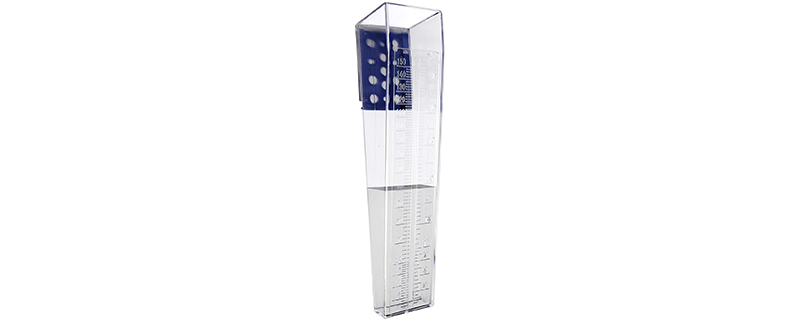 Uniquely constructed from premium-quality ultra-durable materials and components, the OUTWEST TRADING Professional Outdoor Rain Gauge is engineered to withstand harsh and tough weather conditions.
Ideal for placing in your garden or backyard, this device delivers accurate rainfall measurements and is quick and easy to set up on any fence or post.
Equipped with a dual-scale, it measures rain at up to 6 inches and 150 millimeters. Known for its durability and reliability, it is resistant to harsh UV rays of the sun, is rust-proof and non-yellowing.
3. ECOWITT WH5360B High Precision Digital Rain Gauge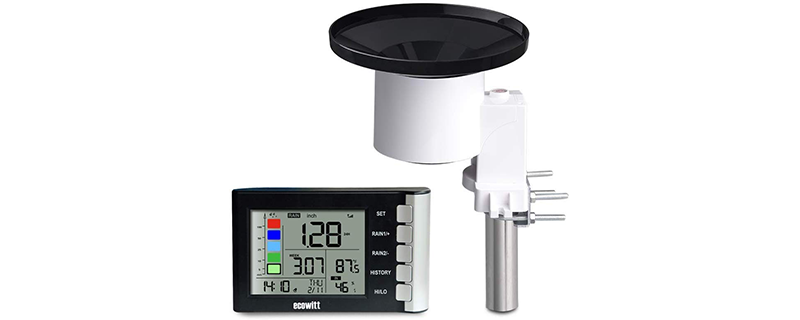 Known for its quality, durability, and impressive efficiency, the ECOWITT WH5360B High Precision Digital Rain Gauge is built to provide precise information on rainfall measurements, while helping with monitoring the watering of your garden or lawn.
Crafted from sturdy materials, it is weather-resistant and can collect an impressive amount of rainwater at any given time. Equipped with bold markings both in inches and centimeters, it is easy to read.
At the same time, the device benefits from a customizable alarm that notifies you with an audible beep when specific measurements have been made.
2. AcuRite 01089M Rain Gauge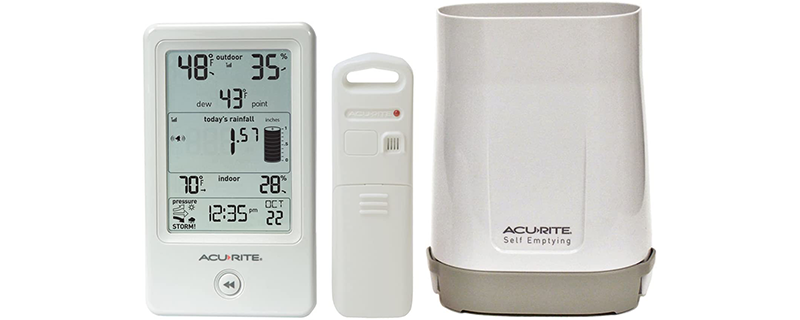 Ideal for placing in your backyard or garden, the AcuRite 01089M Rain Gauge measures rainfall and delivers the readings directly to the 30-meter range indoor digital display, wirelessly.
Designed to work at a 100-meter range, it offers all necessary information on indoor and outdoor temperatures and humidity levels via its accurate sensor.
The rainfall details include previous and current day readings, daily, weekly, monthly and yearly readings in inches or millimeters. Unlike most traditional rain gauges, this one also features an oncoming storm alert mechanism along with a rain alarm and a flood notification function that alerts you of any upcoming harsh weather changes.
1. AcuRite 00899 Wireless Rain Gauge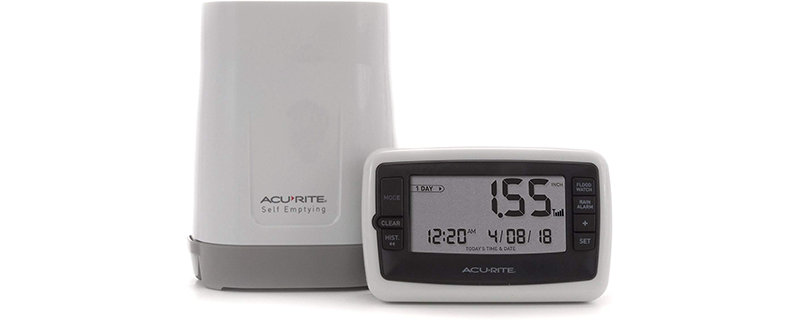 Delivering accurate rainfall measurements in inches or millimeters, the AcuRite 00899 Wireless Rain Gauge is a high-quality, robust device that comes with a self-emptying container. Boasting a heavy-duty construction, it is made from premium quality materials and components and is resistant to all kinds of weather conditions.
Designed with exceptional signal penetration, it includes a flood watch alarm that is extremely convenient and helps indicate conditions that could lead to a flood. Engineered to transmit precise data every 16 seconds, this device also comes with a rainfall alarm that notifies you if it has started to rain.
What To Look For In A Wireless Rain Gauge
With so many wireless rain gauges out there to choose from, determining an outliner can prove more difficult than many people imagine. With accuracy being the most important characteristic to look for, you might be forced to aim towards the more expensive models if you go looking.
This isn't to say that there aren't some fairly decent options you can get on a budget, although you may have to take your sweet time browsing through the many sub-par devices that have flooded the market in recent years. To give you a better idea of what to look for, we put together a short guide to help you in your quest.
When it comes to wireless rain gauges, you will find that they fall into two categories – tipping bucket gauges and standard gauges. A tipping bucket rain gauge is best used to determine if the rainfall is of a light nature, moderate, or heavy.
As such, it incorporates a funnel through which rainwater passes into a vessel designed to tip once it reaches a certain capacity. With a standard rain gauge, the funnel is commonly attached to a graduated measuring cylinder, although ultimately both devices serve the same purpose.
The first and foremost thing to consider when buying a wireless rain gauge is accuracy. It is a common trait among quality gauges to deliver a more accurate measurement of rainfall than regional and even national weather offices, which is precisely why people prefer them in the first place. Although not all of these devices possess such accuracy, those that do certainly justify the widespread availability of these devices and why people like them so much.
It may seem like a broad term but quality can refer to not only the overall performance of a rain gauge but also to the specifics of each individual device. While some of these devices do indeed excel through their sturdy build, others stand out through their interface, accuracy, versatility, and practicality. In this respect, one needs to consider not just the superficial issues such as design and size but also whether the printing and marking of their indicators and their connectivity.
Another thing to consider with respect to quality is the ease of use, mainly how easy they are to operate by virtually anyone regardless of their past experience with such devices. We all know that these devices collect water for measurement purposes but the way they do so is entirely dependant on model and design. It goes without saying that any such device should also incorporate clear and visible markings that can be viewed from a distance, either built into the measuring cup or on an electronic display.
A wireless rain gauge should also be relatively easy to install, with or without the use of additional tools. Not many people understand this but the ease of installation determines the accessibility of the device, especially if you plan on setting it up in a remote area of your property. In this respect, we should point out that most rain gauges come equipped with ground spikes, brackets, and screws of a wide variety to help with the installation process.
One needs to pay close attention to the reviews of any rain gauge they might be looking at, mainly what other users have to say about it. You see, reviews offer a fairly straightforward way of evaluating the overall quality of a product or item, regardless of its nature or presentation. While vendors and manufacturers may be inclined to embellish the item's capabilities, those who already use the product have no compulsion to do so. This way, you may gauge exactly what the device is all about and get a better understanding of how good it is overall.
Even though a quality brand isn't 100% guaranteed to deliver a reliable product, it can still put out better products than less reputable manufacturers. When it comes to home weather stations and rain gauges, you most definitely want a device that was built by world-renowned manufacturers. This is because large companies have the resources to invest in the product's constant development, thus guaranteeing that each generation will bolster better features and stability than the previous.
Last but not least, do not shy away from spending a few extra bucks on what appears to be a quality rain gauge. It goes without saying that quality usually comes at a price, which is true for rain gauges as it is for wifi thermometers and weather stations. Although you shouldn't overspend on a device that you are likely to need only a few times a year, you also don't want to spend money on an unreliable item, one that may also be prone to malfunctions in the long run.