It should be said straight from the start that infrared thermometers have many applications in this day and age, from measuring the temperature of your dishes to checking the core temperature of your electric devices or vehicles. These ingenious devices are designed to provide a fast and easy way to measure the temperature of almost anything that radiates heat without having to actually touch the item at any given time.
It is for this reason that these thermometers are so widespread and why so many people have already invested in one, just as you should sooner rather than later. To give you some pointers on that matter, we put together a list of the ten best infrared thermometers the market has to offer at this point in time.
Infrared Thermometers, Reviews

---
#10

TCP Global Non-Contact Digital Laser Infrared Thermometer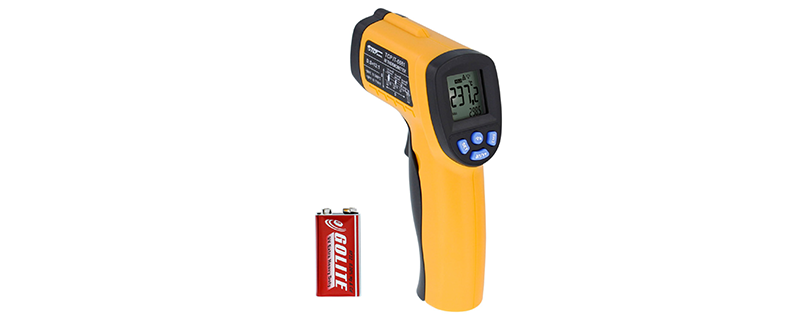 This is a straightforward, easy to use, hand-held device that can detect temperatures of certain objects or areas without any physical contact. Crafted with a quick response time of 0.8 seconds, this device can read temperatures ranging between -50°C to 380°C, making it ideal for both hot and cold surfaces.
Equipped with a convenient laser light, it helps with precision and accuracy while its automatic shut off feature helps in preserving battery life. Constructed from durable materials, the device is compact in size and features a backlit display as well as a low battery indicator.
---
#9

Klein Tools IR10 Infrared Thermometer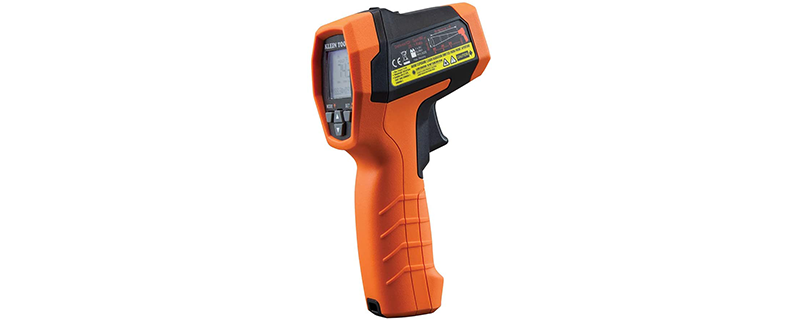 Engineered to utilize IR emission for the measurement of surface temperatures, the Klein Tools IR10 Infrared Thermometer is designed to measure bulk temperatures of various elements such as gas, liquids or air. Featuring the latest dual targeting lasers, this device provides accurate information and comes equipped with an optical resolution of 20:1.
Crafted with a temperature range that goes between -40 to 1200-Degrees F, it includes an IR temperature sensor and a K-type probe jack. Made from robust components and materials, this tool features a convenient backlit display screen that helps while working in low lit areas.
---
#8

Amprobe IR-730 Infrared Thermometer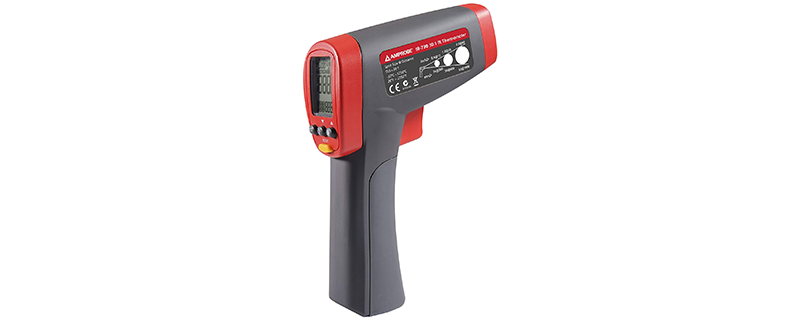 Equipped with an ultra-sharp laser pointer, the Amprobe IR-730 Infrared Thermometer delivers quick and accurate temperature readings without coming in contact with the object.
Engineered to produce updated readings every 4 seconds, this device is ideal for measuring temperatures while cooking, grilling outdoors, preparing food, HVAC servicing, industrial applications, electrical maintenance, prevention of fire, thermal leak detection at home and other such applications.
Crafted to measure temperatures ranging between -26°F to 2282°F, it delivers an accuracy level of +/- 1.8%. Constructed from durable materials and components, this tool features a large LCD screen, a robust casing and a laser pointer that helps with precision and accuracy.
---
#7

General Tools IRT3 Mini Infrared Thermometer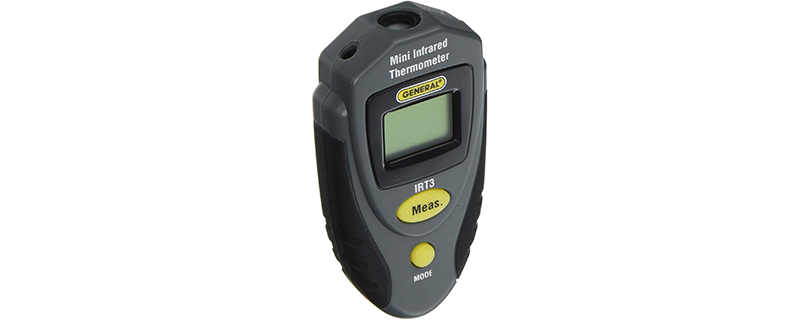 Uniquely created to instantly spot-check temperature alterations around your home, the General Tools IRT3 Mini Infrared Thermometer is a compact and efficient device that fits into your pocket.
With a temperature range that goes between 22° to 482°F, this device can be used for a variety of purposes including cooking, plumbing, HVAC, electrical tasks and more.
Made from high-quality materials and components, this device comes equipped with a clear LCD display, an automatic shut off function that turns off the device if not used for 15 seconds and a quick response mechanism.
---
#6

Extech IRT25 Infrared Thermometer 12: 1 with Audible Alarm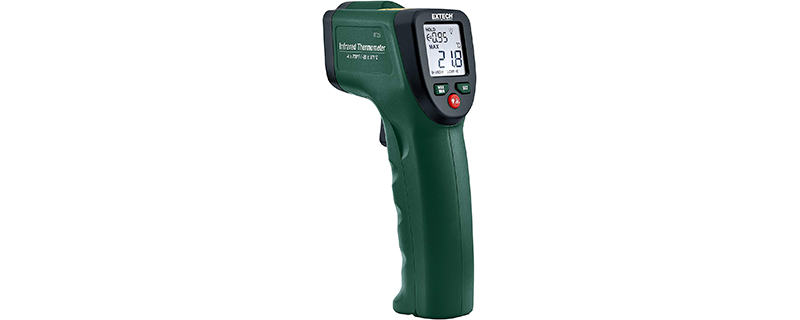 The Extech IRT25 Infrared Thermometer is a heavy-duty, compact, and highly portable tool that offers accurate temperature readings.
Featuring an inbuilt laser pointer for enhanced precision, it measures temperatures ranging between 58 degrees F to 1202 degrees F.
Equipped with a C/F conversion switch, this device is battery operated and comes with a backlit LCD screen that helps when in dark areas or in areas with poor visibility.
---
#5

MASTERCOOL 52224-A Gray Infrared Thermometer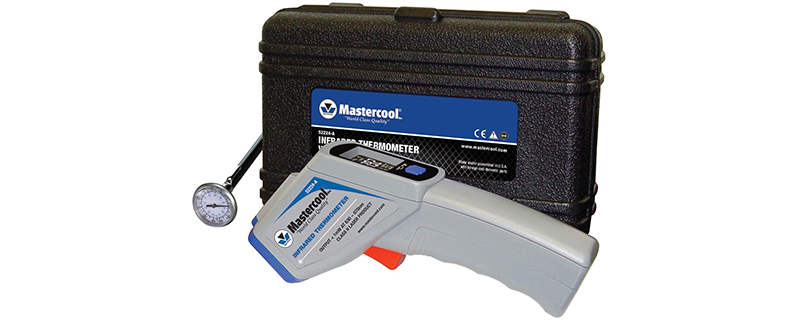 Delivering extended temperature readings that range between -58 to 932˚F, the MASTERCOOL 52224-A Gray Infrared Thermometer offers accurate information without any physical contact. Featuring a 12:1 visibility, it accurately produces temperatures measurements from a distance.
Designed with a backlit colored LCD display screen, it offers clear details of surface temperatures, battery life, unit of temperature and max temperature. Thanks to its laser indicator it helps with exceptional precision while measuring the temperature of any object pointed at.
---
#4

Cuisinart CSG-625 Infrared Surface Thermometer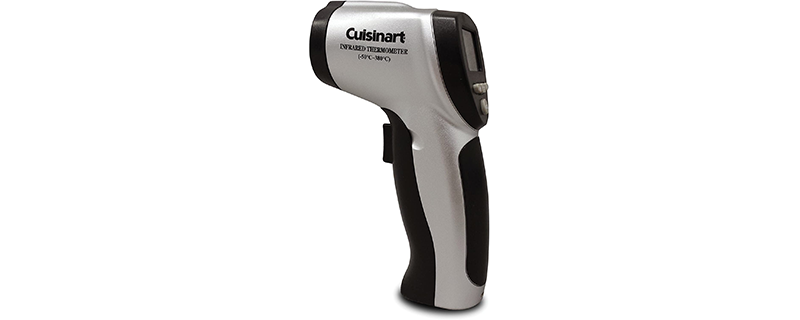 Designed with a classic black and silver body, the Cuisinart CSG-625 Infrared Surface Thermometer is a compact, lightweight digital device that reads temperatures of various objects from a distance.
Crafted to read temperatures that go up to 716˚F, this device comes with a laser target that helps with accurate aiming and precise readings.
Equipped with a backlit LCD screen that helps when working in low light areas, this surface thermometer features an automatic shut off mechanism that turns off the device when not in use, in turn saving battery life.
---
#3

Kizen LaserPro LP300 Infrared Thermometer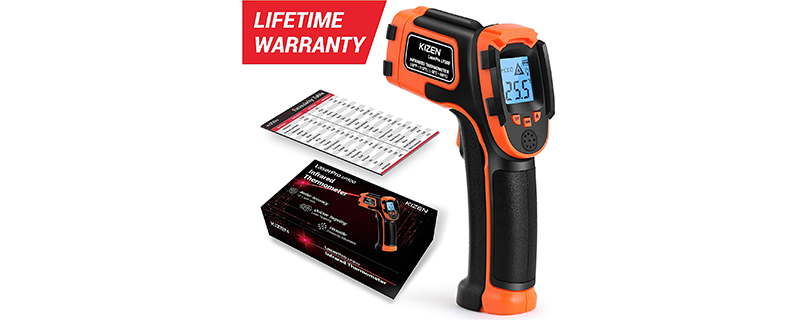 This is a conveniently designed device that delivers temperature readings that range between – 50°C to 220°C. Engineered to provide an accuracy level of ±2% or 2°, this device is ultra-durable and portable.
Made from sturdy materials, it features a strap that allows you to hang it onto your bag.
Designed with an LCD display, it offers visibility of 3.5 digits and features a resolution of 0.1°C or 0.1°F. Easy to use, this handy device can measure distances ranging between 10mm to 80mm respectively.
---
#2

Fluke 62 Max Thermometer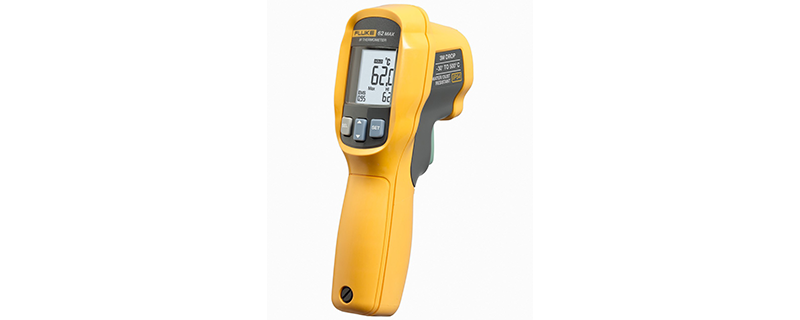 Known for its quality, durability, and efficiency, the Fluke 62 Max Thermometer is a convenient tool that is designed for measurements of surface temperatures without any physical contact.
Ideal for monitoring electrical, mechanical, automotive and HVAC systems, this device is designed to measure temperatures ranging between 30 to +500 degrees C, while delivering an accuracy of + or 1.5 degrees C or + or 1.5 percent of the reading.
Equipped with laser lights, it helps with distance to spot ratio measurements and is IP54 rated for protection against liquid splashes and dust. Made from high-grade materials and components, it is resistant to water and dust and is light in weight and extremely portable.
---
#1

Helect Infrared Thermometer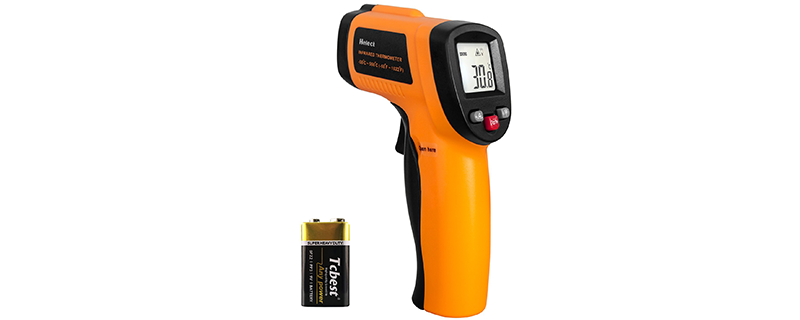 Ideal for measuring both household and industrial temperatures, the Helect Infrared Thermometer can be used for cooking, refrigeration, glass, food, steel, plastics and more.
Designed to measure temperatures from a safe distance, this device comes equipped with a backlit LCD display screen, a °C/°F switch, an automatic shut of mechanism, a low battery indicator and an automatic data storage feature.
Thanks to special inbuilt red laser light, it helps with accurate aiming and comes with a distance spot ratio of 12:1 and a temperature range of -50°C to 550°C. Made from durable materials, it comes with a slip-resistant handle that is comfortable to hold both indoors and outdoors.
---
What To Look For In An Infrared Thermometer
Engineered to operate on the principle of blackbody radiation, infrared thermometers work by gauging the temperature of any object with a temperature above zero. It goes without saying that objects of a higher temperature put out more radiating heat, which in turn makes the measuring process a lot easier.
At the same time, infrared thermometers also measure the gradient in radiation between objects, which makes their application very broad and practical. Over the next few minutes, we will try to find out as much as we possibly can about what constitutes a decent infrared thermometer and what characteristics to look for when buying one.
Application – For the most part, people use infrared thermometers for checking door and window frames for leakages, not just in construction tasks but also when renovating. Not just that but they can also be used for determining the temperature of freezers and refrigerators, which is precisely what many people use them for. It is also common for people to employ infrared thermometers for identifying potential insulation problems at home or in any storage space. These, of course, are just the most common applications for infrared thermometers but given their versatility, they can be used for so much more.
Types Of Infrared Thermometers
Spot Infrared Thermometers – These types of infrared thermometers are engineered to display the temperature on a particular spot on a surface. This makes them perfect for electric circuits that are prone to overheating throughout their entirety. They can also be used in other projects where overheating can be localized and difficult to gauge using regular instruments. Bear in mind that with these devices, you need to calibrate the thermometer to detect the emissivity levels.
Infrared Scanning Systems – These devices are a bit more complex as far as their construction goes and are commonly used in manufacturing tasks. It is common for these types of systems to be built into the assembly arrangement for larger manufacturing macro-systems. We should point out that they are best employed when scanning larger areas that involve conveyors and the like, mainly when multiple objects are involved that need to be measured en masse.
Infrared Thermal Imaging Cameras – These are more peculiar in their usage yet highly advanced performance-wise. Those who employ these types of thermometers do so as part of a complex monitoring system that requires the measurement of various points throughout an arrangement at any given time. To be more precise, many such systems operate in an automated arrangement, the type that will sometimes be required to create two-dimensional images (thermograms) either for technical or security reasons.
Features To Consider
Emissivity – This is the first thing you should consider when buying an infrared thermometer. The emissivity of an object represents how well it absorbs or emits infrared energy that can then be picked up by the thermometer's sensors. It should be said that these values range from 0.0 to 1.0 and everything in between. In this regard, objects with an emissive value of 1.0 are referred to as 'perfect' emitters due to the fact that they radiate the maximum amount of energy they can.
Accuracy – Along with emissivity, a decent infrared thermometer must also perform its readings not just quickly but accurately as well. While on the subject, we should point out that experts consider adjustable emissivity to be a staple of a high-quality infrared thermometer. Many consider that the measurements should always be performed within a 1% margin of error with professional infrared thermometers and around 2% for low-end models.
Range – The temperature range of an infrared thermometer must also be considered prior to purchase as it determines just how effective the device will be when performing certain tasks. At this point, you should consider whether you need the thermometer to perform household tasks or if you need it in a more professional capacity. For regular usage, you need an infrared thermometer with a temperature range of -59 to 1022 degrees Fahrenheit but you can also opt for a more advanced model if you have the budget for it.
DS Ratio – Another thing you want to pay close attention to is the DS ratio. This determines the accuracy of the thermometer in terms of distance-to-spot; to be more exact, it determines the size of the area that you can measure in relation to distance. To put it bluntly, if an object has a DS ratio of 10:1 and measures around five inches in size, then you can expect the thermometer to perform its measurements accurately at a distance of around fifty inches or so.
Warranty – Last but not least, you should keep an eye out for a thermometer with a reasonably long warranty. We say this because infrared thermometers aren't exactly cheap and you need the certainty that you will get the most out of such a device in the long run. Needless to say, reputable manufacturers offer anywhere between 4 to 10 years for their high-end models whereas low-end thermometers can be expected to have a warranty of at least six months.